---
Nast Appeal
It's fun to do an out-and-out parody at times, and who better to most sincerely flatter through imitation than the Granddaddy of Political Cartoons, Thomas Nast. His devastating series of takedowns of Tammany Hall's Boss Tweed was widely credited with aiding in that crook's ouster in 1870s New York City. One can only dream…
We're using these as a promotional image for the funny new book Trump Tweets Alt-American History that L.K. Peterson and I collaborated on. It's available now at Amazon.com.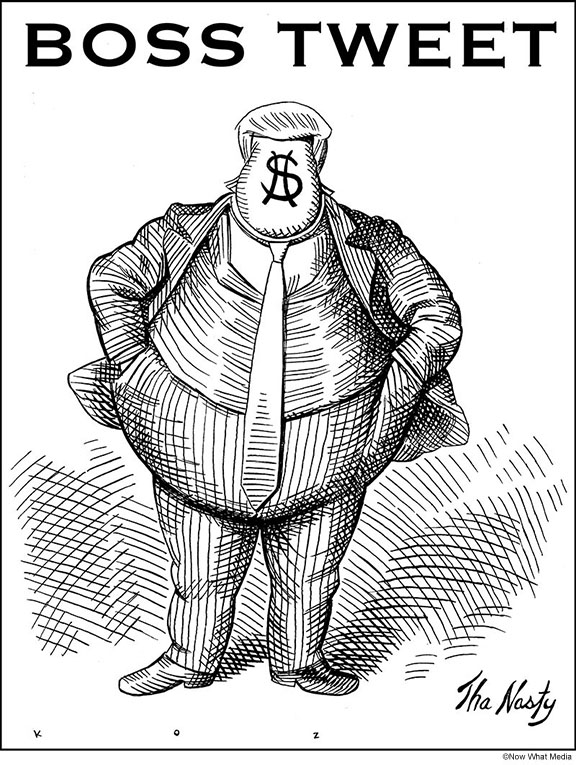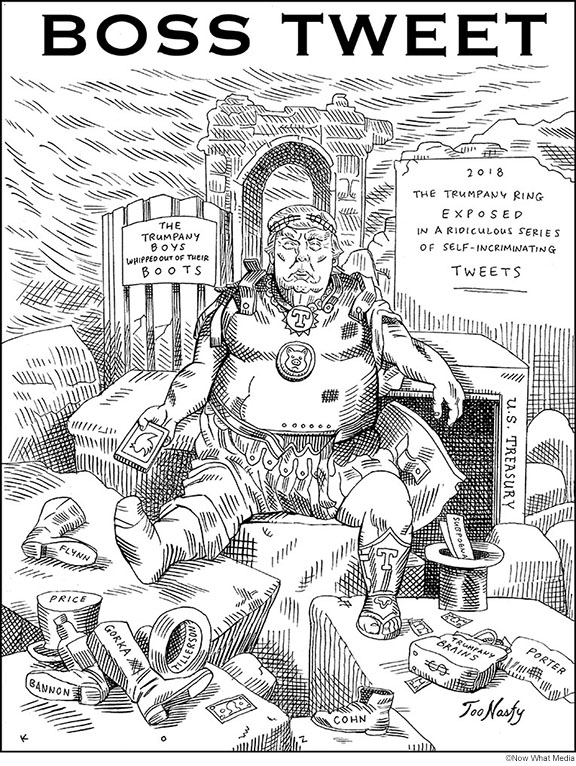 04/25/18
---
Trump Tweets Alt-American History
The very funny Trump Tweets Alt-American History that L.K. Peterson and I collaborated on has just been released. It's available now at Amazon.com.
From the introduction:
President Donald J. Trump had always intended to teach a master class in Alt-American History at the prestigious Trump University, but the many commitments of his former busy life kept him from fulfilling that dream.
Now that he has more time on his hands after his record-breaking election, he has chosen to share his vast store of knowledge of our Nation's proud heritage in a series of tweets that the U.S Department of Education has been honored to purchase as the cornerstone of our national social studies curriculum.
And he will continue to broaden and deepen the public record with his profound insights into our past and present for this and future generations on Twitter
@TrumpAltAmericanHistory (now with even more characters!)
The drawings are by Tom Hachtman (including the cover below) and me (the one below that.)
---
Turkey Shoot
In this nostalgic Thanksgiving Season I wanted to harken back to a simpler time with this illustration I did for the Washington Post in 1998. That halcyon era two decades ago, before vicious partisanship, sex scandals, Special Counsels, and impeachment. Ah, the good old days.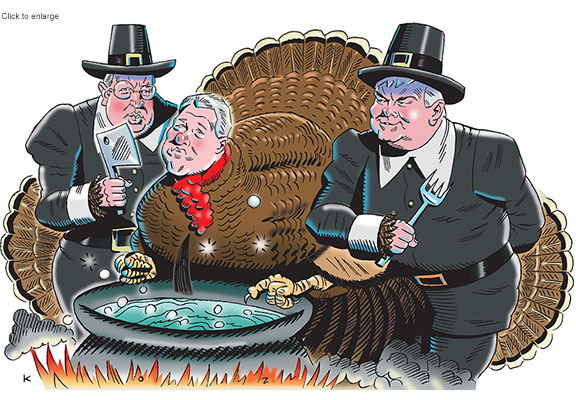 11/22/17
---
Alabama, Get Away
The special election in Alabama that chose Roy Moore, ex-Chief Justice of the State Supreme Court, as the successor to Jeff Sessions is further proof that there are two Americas in the one we call North. The Republican voter in that state opted to out-Trump Trump –– it's as though the Monster decided Dr. Frankenstein wasn't bullish enough on reanimating the dead.
This sorry spectacle reminded me of an illustration I did for Doug Hunt at the National Law Journal in 2003. At the time, Moore was removed from his post because he resisted a court order to relocate a monument to the Ten Commandments he had had installed at the state judicial building. He was returned to that office in 2012. And removed again for ethical violations. And now this.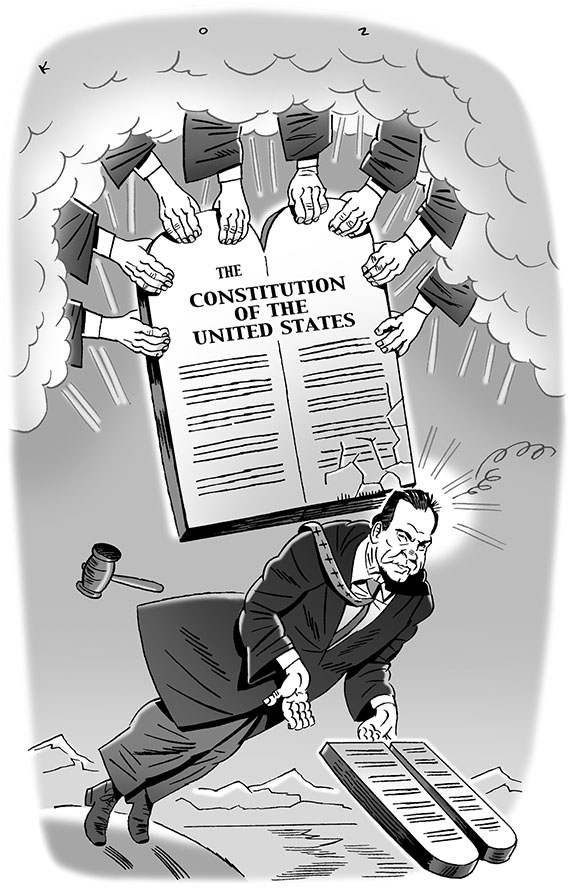 09/27/17
---
Talk to the Hair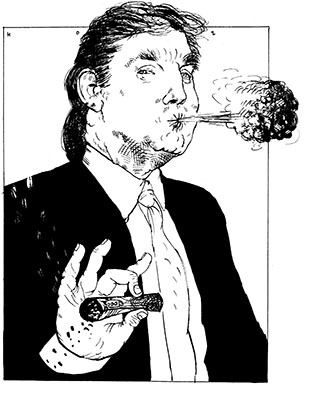 Now that tout le monde is getting a daily dose of what comes out of The Donald's mouth, I remembered this caricature I did some 30 years ago which accentuated his pursed, sphincter-like lips.
Thereafter, every time I did a Trump drawing, I kind of hoped it would be the last. He represented much of what I found distasteful in crass capitalism and celebrity culture, but I thought favoring the megalomaniac with further attention was just feeding the beast. He always felt like a sideshow attraction you could safely ignore. No more –– the freak show's hit the big top.
Of late I've caved to the inevitable and joined in taking pot shots at the presidential poseur –– it's a bit too easy, like shooting a whale in a barrel, but the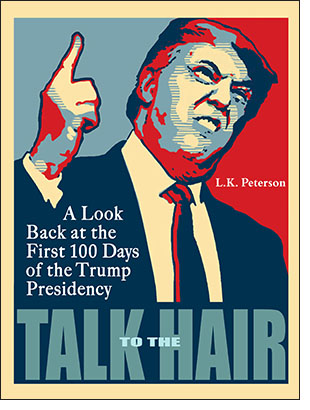 rage he's engendered has created a sense of hate-filled community that's sorta nice. For once all the self-righteous outrage is pretty much justified. Although, I still sometimes feel as if Trump is a mole (and not due to all the snuffling), a double or even triple-agent bent on taking down the Republican Party by exposing all their ugly prejudices by taking them to their awful logical conclusions as rotten planks in an insupportable platform.
My pal L.K. Peterson was inspired to put a droll spin on a potentially grim future and created the e-book Talk to the Hair (just love that title.) It's subtitled A Look Back at the First 100 Days of the Trump Presidency and cleverly 'recounts' the dystopian discontents that a certain vote in November would precipitate. Recognizing that this election cycle was historic for all the wrong reasons, we decided to turn it into an ink and pulp product.
I've contributed twenty black and white illustrations and the back cover artwork. I'm very happy with the results and suggest you get a copy while it's still satire. Order from Amazon. Or at Barnes & Noble.
---
MoCCA Fest 2016: Flick and Flak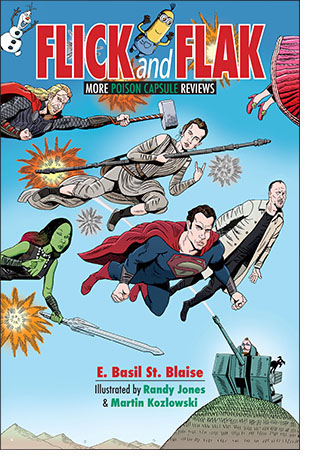 I'll be at MoCCA Fest 2016 April 2nd & 3rd at Now What Media Table #E170. The event is being held at Metropolitan West, 639 W 46th Street , bet. 11th & 12th Aves. in NYC. Hours are from11am until 6pm.
I'll be joining Now What Media compatriots L.K. Peterson, David G Klein, Tom Hachtman and Felipe Galindo in greeting visitors, moving merch and signing books. We're premiering the sequel to Love the Sinner, Hate the Cinema by curmudgeonly critic E. Basil St. Blaise. This compendium of royal pans is entitled Flick and Flak: More Poison Capsule Reviews and features over 100 cinema-skewering cartoons by Randy Jones and myself in full-color.
We'll also be promoting David G Klein's brilliant horror story The Golem's Voice, L.K. Peterson's set of unsolicited sequels Further Adventures: Now What Anthology No. 1, and all our other humor books and comics collections.
You can buy any of our books with the Amazon widget at the top right of this page. Please stop by our table and say hi.
3/21/16
---
Campaign & Suffering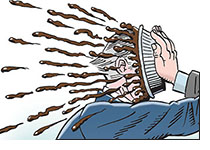 After more than a year of see-sawing polls, impassioned (read : hysterical) analyses and wild speculation we're finally less than a month away from the first preliminary test of the electablilty of the once-swarming field of candidates for the presidency. Only ten more months to go!
Here's a slideshow of images dedicated to the Greatest Sideshow on Earth. The quadrennial spectacle that provides more laughs than a clown car full of illegal immigrants and more of a mess than all of the elephants the Ringling Brothers are finally putting out to pasture. Ladies and Gentlemen, Boys and Girls, those of you still deciding –– please enjoy Campaign 2016.
01/13/2016
---
MoCCA Fest: Further Adventures & The Golem's Voice
I'll be at MoCCA Fest this April 11th and 12th at the Now What Media Table #459. The event is being held at Center548, 548 West 22nd Street in New York City. The hours are 11am until 6pm.
I'll be pitching two brand new books. David G Klein, a long-time colleague and friend, has worked for years on an extraordinary retelling of the Golem myth. This labor of love recasts the mystical creature of Jewish lore as a protector and potential savior for a small boy pursued by relentless Nazis during WWII. The story is suspenseful and full of emotion, and the artwork is just spectacular. It's comic book art in the classic tradition –– action-packed, beautifully-paced, moody and full of detail. And, best of all, it's a tale that can be enjoyed by readers both young and old. I can't recommend The Golem's Voice more highly.
And L.K.Peterson has whipped up a trio of smart and very funny 'sequels' for some familiar fictional characters in Further Adventures: Now What Anthology No. 1. There's a dead-on Sherlock Holmes story entitled The Case of the Glowing Balls in the Nighttime illustrated in period-appropriate splendor by Thomas Kerr. Then Dorothy's pals get a superheroic makeover in Tinman! Crimefighter of Oz, a thoroughly wacky comicbook tale drawn by Randy Jones. Finally, I get a chance to go all noir in Made of Dreams, a hard-boiled caper with a wicked twist.
You can order these books from Amazon.com with the widget to the right. I hope to see you at MoCCA Fest.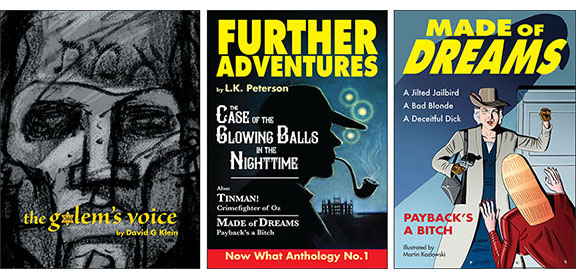 04/02/2015

---
Tricks of the Treat
My misspent youth buried alive in horror mags like Creepy and Eerie and Hammer Films like Vampire Lovers and Twins of Evil has me yearning, at this time of year, for that remembered taste of dark and forbidden thrills. But it's much harder to conjure those innocent shudders in these far more graphic times, where the 24-hour news cycle offers up on any given day more acts of mayhem then can be found in the entire Roger Corman corpus.
And, sadly, some of those shockers of one's youth now deliver more smirks than jerks. For a review of many of the Golden Age's greatest Creature Features by the fiendish curmudgeon E. Basil St. Blaise, please read Screamed Corn.
Yet the odious influences linger on, especially in my work. Here are a couple of drawings and a comic strip with a monstrous bent for Halloween 2014. And links to two political animations that were timed to coincide with that other yearly nightmare, Election Season: White House of Horrors and White House of Horrors II.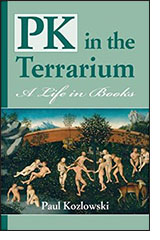 I'd also like to announce that Now What Books has just published PK in the Terrarium: A Life in Books. It's a collection of my brother Paul Kozlowski's writings culled from the last five years of his blog of the same name. It's a deeply felt and witty set of essays by an engaged reader, collector, champion and all-around lover of the written word set down in print. Paul was a proud bookseller for over 30 years and this book outlines his efforts to share his passion with a distracted public, as he navigated a trade in the throes of upheaval and unpredictable change. Objectivity be damned, I highly recommend it.

10/31/14
---
24/07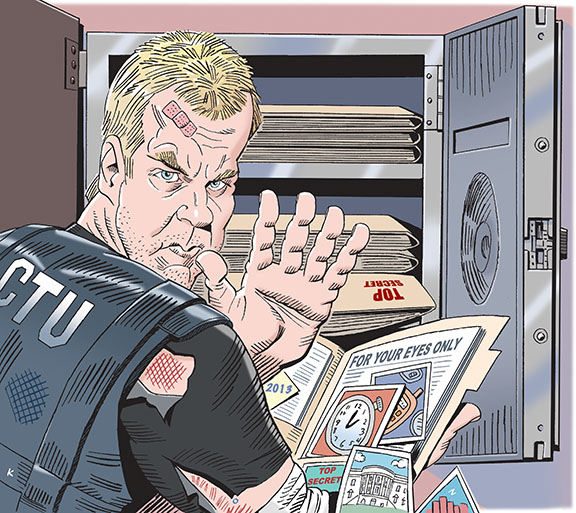 The recent revival of the 24 brand on Fox called to mind this illustration I did for the Hartford Courant in 2007. I never saw either iteration of the series, but it was fun to send up Jack Bauer.
6/4/14
Previous Posts
All contents © 2018 Martin Kozlowski