Biography
Since 1980 Martin Kozlowski has chronicled the social and political scenes in a wide range of publications including Advertising Age, Barron's, the National Law Journal, the New York Times, Newsday and the Wall Street Journal.
He art directs and contributes to the weekly editorial illustration service inxart.com. His comic strips have appeared in the Hartford Courant, the New York Sun, the Earth Times, Fortune, Contently.com and the Daily Star in Beirut, Lebanon.
He designed print material for a dozen years at his own firm in Union Square, NYC and has worked as an art director at the New York Times, most notably on The Op-ed page.
His work has appeared in numerous exhibitions including shows in New York, Paris, Santa Fe and Calgary (but not Crawford, TX) and he has lectured at several colleges including his alma mater, Parsons School of Design.
He has produced a few thousand images professionally with absolutely no loss of enthusiasm for his vocation. He publishes and edits the satirical e-zine site nowwhatmedia.com.
In 2020 he taught a class entitled Battle Lines Drawn: Creating Political Action Comics at New Jersey City University.
He works out of his studio in Historic New Castle, DE. His referring to himself in the third person, though pretentious, is not necessarily symptomatic of a personality disorder.
Please contact him by phone • 917-602-1009
or by e-mail • martinkozlowski@me.com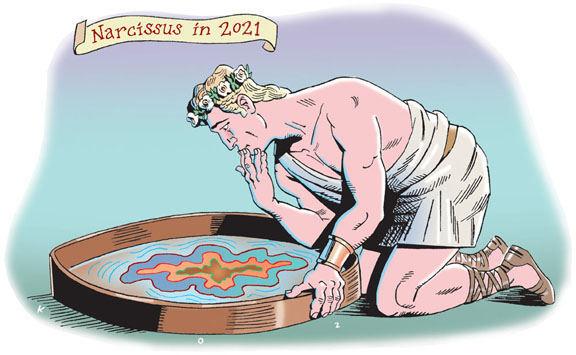 All contents © 2022 Martin Kozlowski